"Hello...Is Anybody Listening?!"
The pages of this book share life experiences, quotes and thoughts that will stir the heart, mind and soul to inspire, encourage and awaken the reader to improve the quality of their life by choosing to make changes in their mind, body and spiritual attitudes. The understanding and wisdom gained in reading this book will enable you to quiet the mind, feed the soul, heal the body and gain inner peace. This is a challenge worth striving for.
Order Now $16.99
Details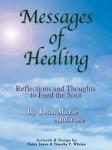 "Messages of Healing...Thoughts and Reflections to Heal the Soul"
A powerfully warm and inviting book to calm the soul, feed the mind and heal the body. The excerpt above is the first lines of the poem: "An Observation." Just one of 22 poems features in the book: "Messages of HealingÖReflections and Thoughts to Feed the Soul" by Joan Marie Ambrose

With over 80 pages of colorful photographs and art that embraces the prose and poetry, this book speaks to your heart and soul and awakens your intuitive powers.

"Messages of Healing, Reflections and Thoughts to Feed the Soul." Offers a way for you to look on the inside without feeling threatened. It will show you how to communicate with your inner voice, your soul and offer a wonderful opportunity to heal.